by David "ImpetuousPanda" Nolskog
"GWENT Champions" is a brand new series of articles that will offer a sneak peek into the life of the most accomplished GWENT players, highlighting what exactly it takes to finish a Pro Ladder season as the highest ranked player in the world. "GWENT Champions" will include a detailed look at the player's background, an in-depth breakdown of their season success, and a glimpse into the player's thoughts on the game and it's future.
As "Season of the Griffin" comes to an end, Sidong "Demarcation" Guo once again finds himself on top. This is no surprise to those who have been following his track record since his return to GWENT following the Homecoming launch, which includes three distinct first-place ladder finishes, and consistent top eight placements for every single season since then. Demarcation's ladder dominance is crowned by a win at the inaugural tournament of Season 2, Gwent Open #1, ensuring his qualification to the Season's finale, GWENT World Masters, in December. Despite the impressive accolades, Demarcation has only recently stepped into the spotlight following Homecoming's release, but his story began long ago in Ningbo, a major chinese port city and industrial hub south of Shanghai.
A Calculated Upbringing
As Demarcation progressed with his high school education in China, he enrolled in an international curriculum that would later set him up for the possibility to study abroad. A few years later, that preparation led him 12,247 kms away from home, to Atlanta, Georgia, where he enrolled at Georgia Institute of Technology. Having just finished his junior year, he's ready to follow in his father's footsteps and tackle a major in Electrical Engineering, all while finding the time to dominate GWENT's esports scene. That being said, Demarcation acknowledges the compatibility between the two, "I think my studies have helped me develop my mathematical skills in card games, it helps me calculate faster and I think I'm pretty good at mental math".
Sidong's experience with competitive card games started with Blizzard's Hearthstone, which he played throughout the final years of his high school education, but the increasing amounts of variance added to the game disillusioned him. Gwent's launch that year, alongside legendary esports figure Adrian "Lifecoach" Koy's foray into the game, drew Demarcation in. "When my friends and I first heard about it, we decided to give it a shot, and we discovered GWENT is really just less RNG dependent than Hearthstone". That feeling was short lived, as GWENT's controversial midwinter update released and marked a long hiatus in Demarcation's GWENT career, in part because it coincided with his high school graduation and having to make the tough transition to the United States in preparation for his college education. 
Following GWENT's major homecoming release, and more specifically the increased accessibility its iOS counterpart offered, Demarcation was hooked once again. "I found the game to be very good, there were a lot of new cards and new mechanics, and concepts like silver spies were gone which I think were a bit problematic looking back at older versions of GWENT. That being said, one thing I really liked about Open Beta Gwent is that it was really less draw dependent than it is now, which is a big factor affecting the tournament scene. Back then you could consistently draw through your entire deck, although at the same time I think it was much less enjoyable for the casual player, with deckbuilding limitations on the more enjoyable gold and silver cards. It's hard to say which version of GWENT I liked more, I think they're very different and hard to compare, although Homecoming made a lot of progress in fixing things like CA spies and red coin abuse. " he said.
As Homecoming's first competitive season began in November, Demarcation armed himself with nothing but his mobile phone and the desire to acquire the season's cosmetic rewards for a top placement on the Pro Ladder. Unlike for most players, this chase for cosmetics astonishingly concluded with a second place finish on the global leaderboards on his debut season since his return, just behind Belgium's Alessio1996. This could have served as a clear foreshadowing of the ladder dominance that was to come, but at first the magnitude of Demarcation's initial success surprised him. "It was kind of shocking to me, but I figured maybe it was a sign that I should continue trying to compete at a high level again" he confesses...and compete he did, being the only player to consistently place among the top 8 players in the world since his debut return season, and winning nearly half of the seasons along the way. 
GWENT Masters Season 2: A new format to qualify through
Although his competitive success at a season's end soon became a guarantee, the continuation of GWENT's esports circuit and it's possible format was for many months clouded in an air of uncertainty. In late November, plans for GWENT Master's second season were released, and they included a radically different competitive structure. The season would feature a shorter and much more structured length, the omission of Challenger tier tournaments, and a complete shift in qualifying paths for offline events; from a ladder centric top placement grind to a much more logical shift mixing together top ladder placements and online qualifier tournaments. "I think it's a better system than the ladder grind system we had before. The ladder system is very consistent in letting the better ladder player qualify, but at the same time it doesn't mean you're a better tournament player. I think the current system does a better job of rewarding both skillsets, you need to do well on ladder to meet the top 16/64 cutoffs, and then perform well in a tournament setting. Also, with the older system we never usually saw many new faces, which is also a problem because I think nobody wants to see the very same players every tournament. I think there's also less of a grind now, in the old system you had to play 1,000+ games per season to qualify, and now the average number of games required has gone down by quite a lot. Although ladder placements don't directly reward spots for Open tournaments, there are still four spots that directly qualify you to World Masters through crown points so I think it's very fair. That being said there is some amount of variance involved when facing a very long tournament against equally skilled opponents, but I still think skilled players will prevail, and it shows with players like Tailbot qualifying to every Open tournament this season." he said.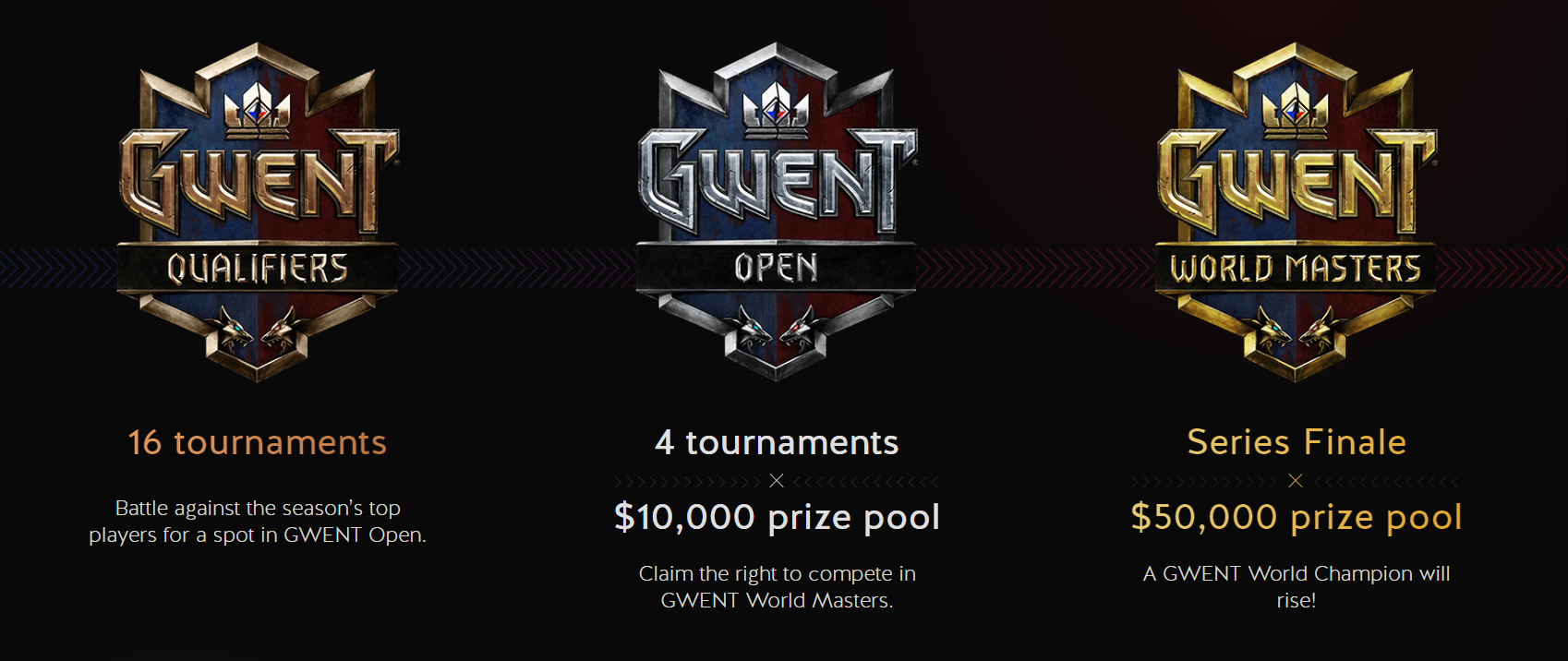 GWENT Masters Season 2 format
In regards to the changes for Season 2, one of Poland's star players in the past year, "Pajabol", expressed some frustrations with the qualifying system in a recent interview with "Team Elder Blood". He disliked that all qualifier spots were solely through tournament play and not rewarding enough for top ladder performers, and this sentiment may have been further exacerbated by his close-but-not-close-enough 15 hour tournament runs leaving him justifiably disappointed. When prompted to comment, Demarcation vehemently disagreed with returning to a version of the old system. "I think his reasoning is that he's a very skilled and consistent ladder player, so he would much rather have ladder qualification spots for the Open and not just playing for the tournament qualifier spots which is really random. I also think I'm a decent ladder player, but I think if CDPR brought the old ladder qualification system back where the top ladder spots qualify then most of the pro players would really start grinding many more games and the ladder would not be that easy. I'm not going to pretend I would be able to win three of the past six seasons if there was a direct ladder qualification system. It would make the average number of games required to qualify increase by a lot and it would be just as frustrating if you finish third in the season and only the top two players qualify through ladder, the final day of games would be incredibly frustrating and stressful." he explained. Demarcation provides some incredibly valuable insight and interesting points regarding the top player's interactions with the pro ladder system, and the average number of games played by top competitors in a single month has certainly decreased with the new system. Outside of crown point rewards, there is less of an incentive for top players to continue pushing once they're content with the cutoff bracket they are in(top 16/top 64), essentially making the MMR grind somewhat more lax and as Demarcation himself says, "easier".
China's Rise To The Top
Although China has always been a major region in GWENT, both in regards to its output of top competitors as well as it's large portion of the total player base, since the beginning of Season 2 it has risen and surpassed even Poland when it comes to competitive success. Zehua "LpHanachan" Zhao and Lipao "Wangid1" Ni were the two major representatives all through Season 1, but with the start of this new era in GWENT esports, Demarcation has risen among his compatriots and proven to be one of China's strongest players. Alongside Demarcation and Wangid1, Yuanfei "SuMo" Yang is another new name who managed to qualify to Open #1, where nearly half of the participants represented China. Among both Open #1 and Open #2, China had the highest representation among competitors, and also the most unique participants, beating out Poland. The chinese players didn't just show up for participation awards though, with both Open #1 and Open #2 championships ending up in the hands of Demarcation and Wangid1 respectively, both punching their ticket to the World Masters tournament in December. Despite this success, both players continue to fire on all cylinders, having already secured qualification spots for Open #3 later this month. 
China and it's players have a unique experience in relation to GWENT, partly due to CDPR having to work alongside chinese publisher GAEA to adhere to the strict censorship laws that envelop China's gaming industry. This also means Chinese players have the option to play in a closed circuit Chinese server, where there is a slightly different game experience due to censored cards, or access the Global servers if they're living abroad. The former creates an entirely distinct experience when it comes to the metagame, as players have no influence from foreign players on ladder and the meta evolves differently compared to the global servers. Although there are no all-encompassing competitive teams similar to "Team Aretuza" or "Team Leviathan Gaming", there exists a structured and multi-layered "Meta Snapshot" team that includes all major chinese players and content creators. The team creates frequent meta snapshots similar to those published in the west, although in this case it's published on China's Reddit equivalent "Iyingdi", while also having specific departments for the translation of all english content, fostering relationships with western content teams and content creators, and the production and writing of the meta snapshots themselves. "We don't really call ourselves a competitive team like Aretuza or TLG, but I think the chinese community inherently works together and operates like a team when it comes to playtesting and sharing thoughts about the meta. Earlier this year we created "Team Swallow", mostly so we weren't simply "Team China" when we entered Aretuza's Spring Team Clash tournament, and it includes some of China's best players. Despite Wangid not being a part of this team, I still discuss decks with him and playtest with him often, there's a nationalistic comraderie and we all work together." he explained.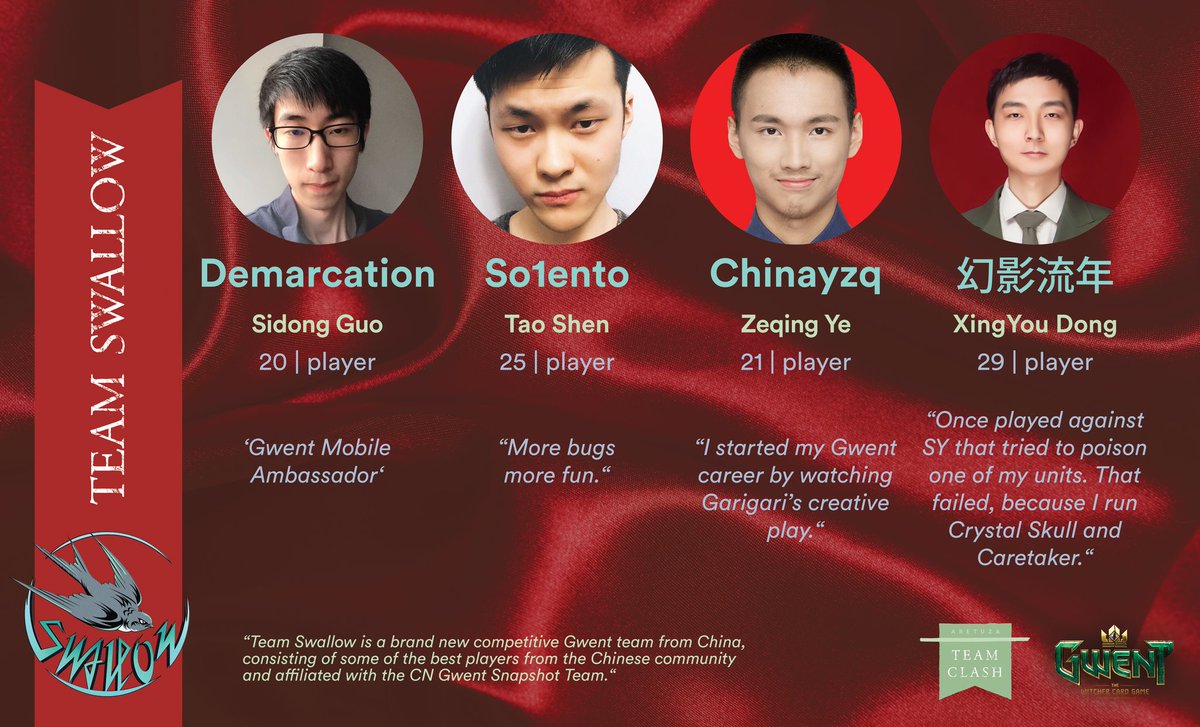 Team Swallow's participants in the Aretuza Spring Team Clash (credit: Team Aretuza)
When it comes to streaming and content creation, chinese players stream on "Douyo" and "Huya" streaming websites, with pro players like Wangid1 and SuMo streaming fairly regularly and "garigari" being one of China's most popular regular streamers on Douyo. Although the viewership numbers aren't clear due to the use of a more confusing "interaction" metric over simple viewership as well as the widely-accepted inflation that occurs with chinese streaming websites. Demarcation believes the Chinese community has certainly grown a lot throughout homecoming's release and the game has a lot of positive inertia with every new expansion. 
Season of the Griffin
The launch of the season coincided with the launch of the Master Mirror expansion, which included a variety of new cards and archtypes to try, and a definitive shakeup to the metagame with incredibly impactful cards such as "Ethereal", most "Echo" cards, and most of the "Evolve" cards. Despite the exciting changes, Demarcation was unsure if he would really try hard this season as he did not require the extra crown points, having already qualified for the World Masters tournament in December.
"I usually try hard if things go well for me at the beginning of the season, which it did initially, but then I had a really hard time playing syndicate. I played a ton of games with my favorite faction, but I didn't really make much progress. It was especially difficult considering about 80% of players were playing Skellige, which was broken in the beginning of the season. Usually I would have to play about 30 games to get to 2,500 fMMR in each season, but this time I had to play around 50 with Northern Realms and Nilfgaard because I had such a hard time against SK. I think everyone was exploring a bit at the beginning of the season but no one was finding success with anything but SK, I think it was a bit of a mess for all players. Suddenly there was one day where I had a lot of success with syndicate, I managed to raise my fMMR to 2,550 and it became my strongest faction. Most players were saying that Syndicate was just bad but I really wanted to make it work. When I managed to get Syndicate to 2,600, I decided to take the season seriously and that way I wouldn't get rusty." he said.
"Nearing the end of the season, I was in a very close race with kams134, we were around 100 MMR ahead of the rest of the players and just constantly pushing each other higher and higher. There was a point where I managed to get all three factions(SK, NG, and NR) above 2,660 fMMR , but I couldn't get Syndicate higher than 2,610. At this point I knew if I wasn't able to get my fourth faction to around 2,650 I probably wouldn't be able to win the season, although at this point I was still 50 MMR ahead of kams so there was still a chance I could win even with Syndicate in "dumpster MMR." he laughs.
"In the last two days, I noticed that both second place "kams134" and third place "GraveshGravesh" had Monsters as their fourth faction, and I was really surprised as I had considered it a fifth faction. I saw they were playing the TLG tournament list, with Ethereal and the "Fruits of Ysigth" leader ability, and I started considering switching my fourth faction, although my Monsters fMMR was still close to the default 2,400. I decided to give it a shot and that night I managed to climb around 200 fMMR in 6 hours, with an 88% winrate and a 30-4 record, which got me to 2,646 Monsters fMMR, 36 more than Syndicate giving me my final score of 10,667 for the season. I was already around 100 MMR ahead of second place on the final day, and while I thought someone would try and out-push me, no one did, so I didn't play at all the last day and instead watched players streaming their own top 16 pushes." he said. Demarcation's final climb playing Ethereal Monsters becomes even more impressive when you consider this is the first time in the past eight seasons that he decides to play Monsters and have it as his fourth faction when it comes to fMMR scores.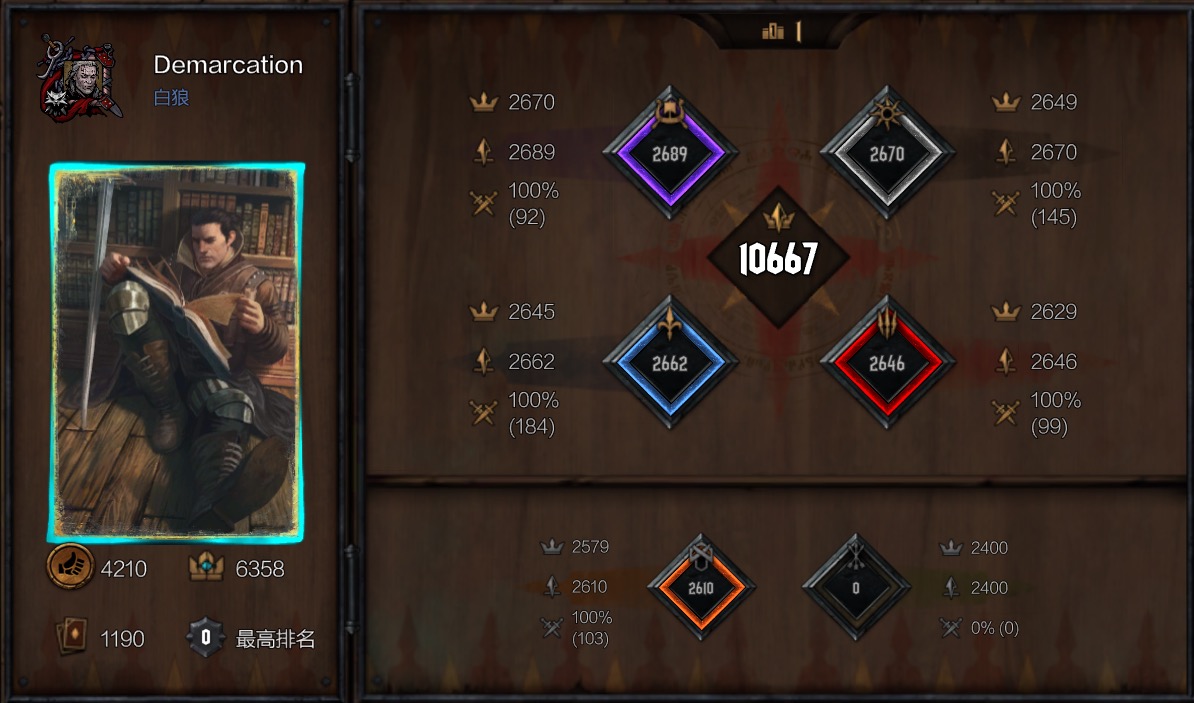 Demarcation's final fMMR scores
When it comes to deckbuilding, Demarcation admits it's not what he's known for. Instead, he thinks he really excels at refining and adapting a deck to a constantly evolving meta, especially the micro metagame that exists at the very top end of the ladder at the end of the season. When playing against such a small pool of extremely talented opponents, running a card-for-card copy of a popular netdeck is sometimes not enough, and teching in a few surprises goes a long way in pushing you over the top of your competitors. "At first I was just netdecking the original "Devotion NR" list, but then I played a cheeky card that is called Vandergrift, and I think it was an interesting inclusion. Towards the end of the season a lot of players started to netdeck me because the cheese and surprise factor worked very well. A lot of the times your opponent would spend all their removal early, and especially SK wasn't running too much purify or at least no skilled player would keep purify against NR, so I could guarantee to have some carryover to resist the bleed in Round 2 better. When playing NG Formation, I teched in Alba Armored Cavalry, the five provision lock soldier, to counter Ethereal and I could even replay it with Ramon. That way I could play up to three locks in a single turn and counter Ethereal without having to play Lockdown as my leader" he said. 
As for Demarcation's usual methodology when it comes grinding the ladder and ensuring a top finish over the course of a month...it's surprisingly normal. There doesn't seem to be one secret trick that pro players don't watch you to know, or the monthly invocation of a omnipotent Djinn that grants him perfect fMMR scores on the three factions of his choice(let's be honest, he won't have to waste a wish on his SK fMMR score). "I usually play in the morning when I get up, because I think it's where my focus is best. I usually play for three or four hours every day, and if I made some decent progress that day then I stop playing for the rest of the day. If it's the last week of the season then sometimes I'll have to grind for much longer, but it depends on my position on the leaderboards and my fMMR scores. I usually don't care too much about trying to play during a specific region's most active time, but I can say that for me it's a bit harder to queue at night because I'm in the U.S and at that time in Europe it's 3 or 4 A.M." he said.
Although his play pattern seems fairly standard, Demarcation's results definitely are far from that. This month's stellar ladder performance cements his position as one of the clear favorites for the World Masters Championship title later in the year, adding on to the two previous season wins this year. When it comes to tournament play, he's also proven his diverse skill set with an inaugural win at Open #1 to kick off Season 2, and a more recent dive into the gruelling 2-day challenge that are the online qualifiers, coming out fairly unscathed with a guaranteed spot for Open #3 after defeating Aretuza's "Unforgiven" in the loser's bracket final.
What Lies Ahead
This new month of GWENT has a lot in store for Demarcation, with patch v7.1 coming online and "Season of the Draconid" well underway, there seems to be little chance for the star Chinese player to catch a break. With Open #3 looming in the horizon, Demarcation will have to ensure he continues to hone his understanding of the meta and his rapid mental math calculations if he wants to ensure a chance at a second championship against a very stacked field of players. 
GWENTMaster Season 2's dualistic hegemony enforced by China's "Demarcation" and "Wangid1" and Poland's "Tailbot" and "kams134" will be challenged by a diverse set of fresh faces and seasoned veterans. Wlastelin will work upon the strong showing Russia has already had this season, while "Danirai" and "Poisound" will look for a chance to prove their worth in their first ever official tournament participation, the latter also becoming the first ever South American player to make it to GWENT's biggest stage. As for the eighth and final participant, fan favorite and GWENT veteran "theshaggynuts" is back. For those readers who just recently started following GWENT esports and may be wondering "Who is Shaggy?", know that with his recent qualification to Open #3 he consolidates an incredible feat of having participated, and won, the very first GWENT Open #1 and exactly three years later attempting to do it all over again. He may not be a favorite this time around, but Shaggy is always more comfortable as an underdog. Tune in for Open #3 and watch the action unfold on August 29th and 30th right here!