Zehua "Huyahanachann" Zhao has won the March GWENT Open tournament!
Over the weekend, the highest ranked players of GWENT's Pro Ladder season battled for their share of the $25,000 prize pool and GWENT Masters Crown Points. Huyahanachan managed to reach the Final after winning with two GWENT Masters debutants: Damorquis in the Quarterfinal, and lbdutchboy in the Semifinal.
His opponent in the final best of five was TailBot, who eliminated Adzikov and Kolemoen after a series of intense games. His impressive skills made him a fan-favourite, which showed in the results of the final
Twitter
poll — over 75% of voters expected him to win the tournament. However, that was not the case — Huyahanachan managed to come out on top with a 3:1 victory, even with his Greatswords Skellige deck being banned after the incredible showing on Day 1.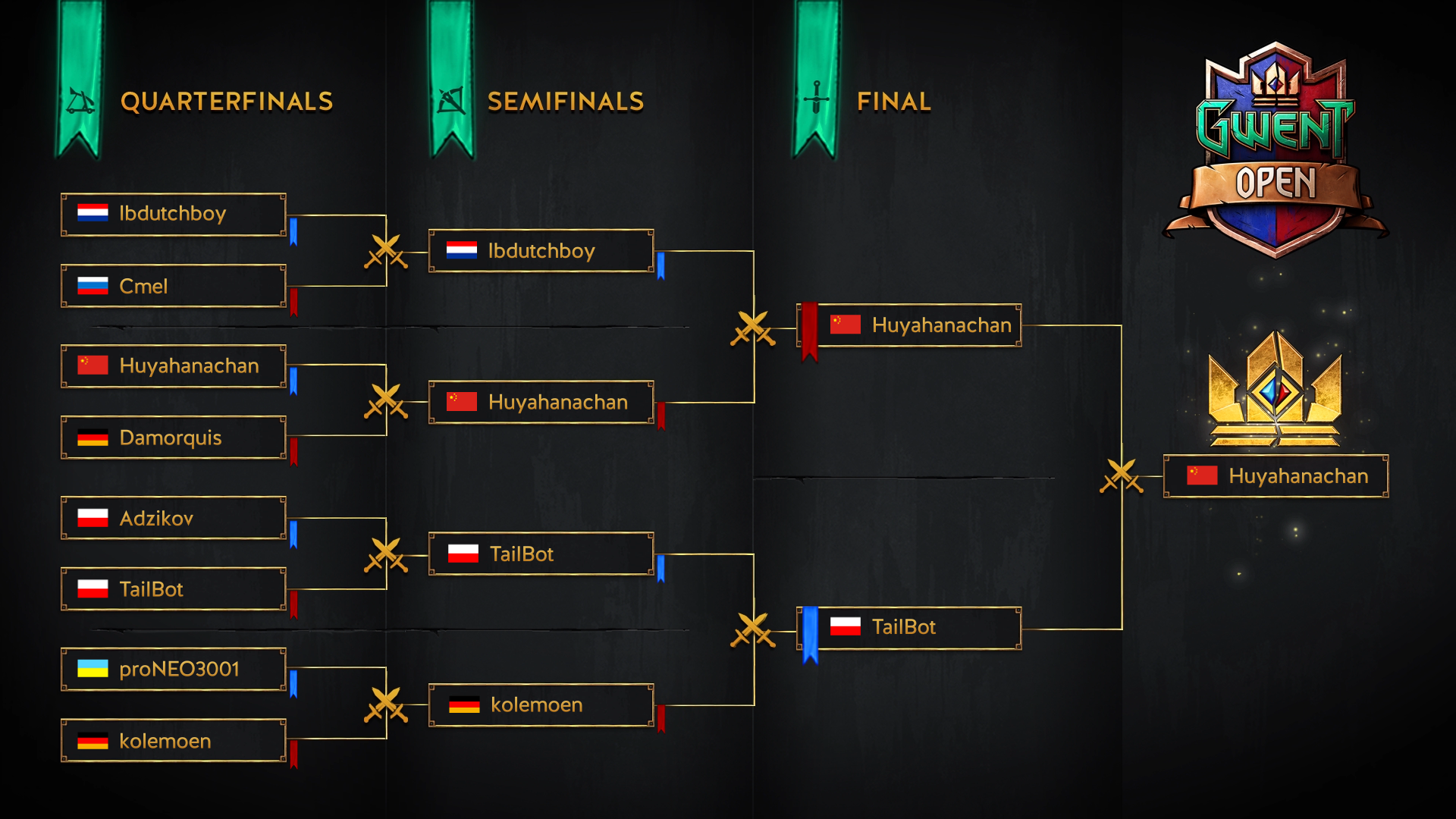 The final standings for the tournament are as follows:
FINALISTS
Zehua "Huyahanachann" Zhao (China) — $9,650
Damian "Tailbot" Kaźmierczak (Poland) — $4,750
SEMIFINALISTS
Liam "Lbdutchboy" Brouwer (Netherlands) — $2,950
Benjamin "Kolemoen" Pfannstiel (Germany) — $2,500
QUARTERFINALISTS
Daniel "Damorquis" Morkisch (Germany) — $1,400
Nikolay "Cmel" Sakharov (Russia) — $1,250
Alexander "proNEO3001" Shpak (Ukraine) — $1,250
Andrzej "Adzikov" Bal (Poland) — $1,250
With the Open #4 finished, we already know 7 participants of the upcoming GWENT Challenger, which will take place in April in the underground caves, quarries and tunnels of "Wieliczka" Salt Mine. The last spot in the tournament is waiting for the winner of the second Qualifier taking place next weekend (March 24-25th) — to be eligible to participate, players will need to be in the top 200 of Pro Ladder come March 21st, 11:59 PM CET.